Words and photos courtesy of Wes Shakirov / StratosWRC
A half a century ago, Britain was filled with small, independent car manufacturers that designed their cars according to their own vision, as opposed to a corporate mandate. These cars, like the Marcos, TVR, Ginetta, and Morgan, made focused sports cars that appealed to genuine drivers. They didn't last too long, as soon people opted to settle for foreign, reliable cars instead that required less money to buy and run them. Many of these small volume manufacturers did not survive this period. Those did that did, still produce cars, but for a very niche market, and at very small volumes. The waiting list for a Morgan, for example, can be for up to two years.
Marcos was started up by Jem Marsh and Frank Costin, and their cars were often strange looking, like the 1800, but desirable nonetheless. They even dabbled in racing for a period with the fierce Mantis. Their cars followed a similar design language – long bonnet, large headlights, and a roadster rear end. The last car, The Marcos TSO, was even featured on Top Gear, and Richard Hammond drove it and loved it. Sadly, only a few units were ever built before the company closed its doors in 2007.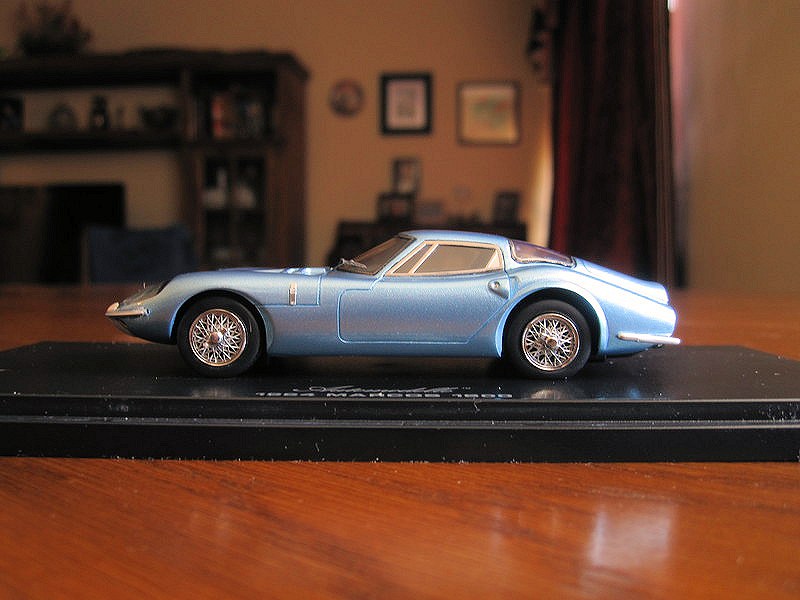 Automodello brings the Marcos legacy to us in 1:43 scale, in the form of a 1964 1800 model. An awkwardly handsome car, with long, swooping lines that start at the headlights, falling mid-body, and rising over the rear wheels. British cars have always been tiny (the Lotus Elan comes to mind), so even for a 1:43, this model is very compact. Despite the size, it is exquisitely detailed. All the trim is photo-etched metal, including the window frames, wipers, and even the tiny hood latches. There is even a door button! How they managed to make something so tiny and attach it to the model is beyond me. The headlights have the characteristic Marcos 'eyeshadow', which looks quite good. At the rear of the car, there are individual lights, as well as a lock and a fuel cap.
I am particularly impressed by the wheels and the windshield wipers. Both put larger scale models to shame. The wheel spokes are slender and delicate, topped off by a knock-off hub. The wipers are not one-dimensional, and look absolutely great, and to correct scale. The interior is dark, so if you want to take a look inside, you'll have to shine a torch light. Once you do, you'll see that it's very well detailed, with what looks like a shovel in the passenger foot well, perhaps for the owners to dig themselves out of ditches, if they got too ambitious on those UK B-roads.
This model is available in many editions, including one signed by Jem Marsh himself, who sadly passed away a few months ago. This is the only available replica of the Marcos in 1:43, and I'm delighted to report that it is a high quality item, with great detail and finish. The other colours are Red, Royal Blue, and Black (signed edition), and are all available at www.diecasm.com. Pick one up, you won't be disappointed.